Bandera gospel discography (1961-63)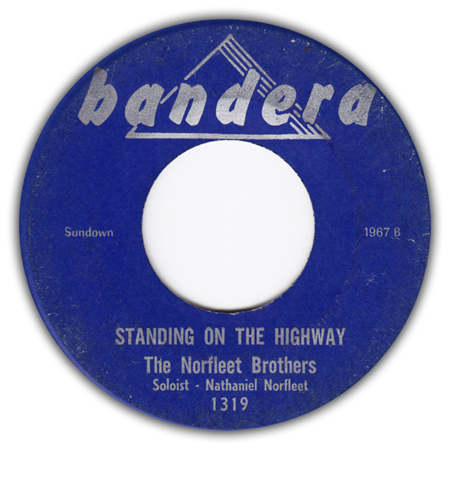 The Bandera label was launched in 1958 (Chicago) and was run by a mother and son team, Violet Muszynski and Bernie Harville. Apart from blues, rockabilly, country and pop, they also released a handful of Gospel 45's, most of which appeared on the sub label Jerico Road.
At one time the Rush label was connected to Bandera, click here to see label scans of two different issues of Rush 601 by Little Ben & the Cheers (a secular release by a group better known as the Norfleet Brothers amongst gospel lovers). As can be seen, the first label sais "A division of Bandera Records"; this information is not present on the other release shown. Later issues do not show this information either.
#705 was released on Jerico instead of Jerico Road.
Jerico Road 706 was probably not released.
This page lists all known Bandera gospel releases (Bandera, Jerico and Jerico Road).
45rpm releases:

| release | artist | artist as shown | songs | year |
| --- | --- | --- | --- | --- |
| Bandera 1319 ♫ | Norfleet Brothers | | Draw Me Nearer b/w Standing On The Highway | 1961 |
| Jerico Road 702 | Patterson, Eld. Samuel | Elder Samuel Patterson | Two Wings b/w A Prayer | 1961 |
| Jerico Road 703 | Space Spiritual Singers | | Let Jesus Fix It b/w Heaven On My Mind | 1962 |
| Jerico Road 704 | Faithfull Wonders | | Let God Abide b/w Woman At The Well | 1962-63 |
| Jerico 705 | Patterson, Eld. Samuel | Eld. Samuel Patterson, the Christian Crusaders | This Train b/w I Can't Feel At Home In This World Anymore | 1963 |
| Jerico Road 707 | Norfolk Singers | | King Jesus b/w John Saw | 1963 |
EP release: