Finch gospel discography (c. 1963-1970)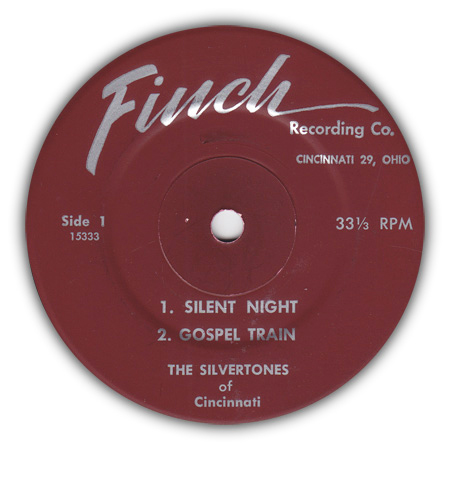 Finch (Finch Recording Co.) was a Cincinnati, OH label, owned by John Finch and in operation from 1962/63 to the mid 1970's. Apart from gospel the label also released blues, doo-wop, soul, country and garage.
The Finch label was related to 'Gospel Records', a small label that should not be confused with other 'Gospel' labels. The Silvertones of Cincinnati had a release on Gospel Records, with the labels referring to Finch Pub. Co.
The numbering Finch used really is a mess and thus it's hard to tell if the listing is anywhere close to complete. The numbers given are the ones as shown on the labels. When it says nn (not numbered), the matrix numbers are shown for better identification.
Some 45's have been reissued (by Finch?), like the first release by the Singing Mastermen (9485/9486). These reissues may also be bootlegs.
The years of release for the LP's are largely unknown. All Finch LP's that are known to me are listed, but some or most could be from the 1970's. The years for the 45's and EP's come from the pressing plant information on www.45rpmrecords.com. Post-1970 45's are omitted from the discography.
This page lists all known Finch gospel singles, EP's and LP's from 1963-1970.
45rpm releases:

| release | artist | artist as shown | songs | year |
| --- | --- | --- | --- | --- |
| Finch nn (9485/6) | Singing Mastermen | | The Story Of Calvery b/w Jesus He's A Friend Of Mine | 1963 |
| Finch 7325 | Moton, Linda Hone | | The Right Of It All b/w Sweet Flowing Love | c. 1964 |
| Finch nn (13487/8) | Silvertone Singers | Silvertones of Cincinnati | Leave It To Jesus b/w Loved Ones Are Waiting | c. 1964 |
| Finch nn (16155/6) | Gospel Travelers | | I Don't Know Why b/w Fly Away | 1966 |
| Finch 70479 | Religious Gospelaires of Lincoln Heights, Ohio | | Smoothing Out The Rough Road b/w He's Coming Again | 1967 |
| Finch 70529 | Jerdo and Soul Redeemers, Rev. S. | | On The Jericho Road b/w Thus Said The Lord | 1967 |
| Finch 70670 | Lov-ette Gospel Singers of Cincinnati, Ohio | | I'm Tormented In The Flame b/w I Don't Ask For Anything More | 1967 |
| Finch 70672 | Melody-Aires of Dayton, Ohio | Melodyaires of Dayton, Ohio | He Cares For Me b/w Stay With Me Jesus | 1967 |
| Finch 70934 | House of God Harmonizers | | Lord Remember Me b/w Jesus Knows | 1967 |
| Finch 71027 | Golden Eagles | | I Got Shoes b/w Hold On | 1967 |
| Finch 81064 | Lattimore Sisters | | If I Had My Way b/w Please Remember Me | 1968 |
| Finch 81228 | 2nd Liberty Baptist Church | | I Can Trust Him b/w I Am Packing Up To Move | 1968 |
| Finch 90225 | Christian-Aires of Cincinnati, Ohio | | Wrestling With The Devil b/w My Father Knows | 1969 |
| Finch 90508 | Gospel Travelers | | Standing At The Station b/w That Makes Me Happy | 1969 |
| Finch 905103 | Howard Singers | | When They Ring Them Golden Bells b/w Time Is Winding Up | 1969 |
| Finch 06114 | Howard Singers | | Hide Me In Thy Bosom b/w So Soon | 1970 |
| Finch 06115 | Gospel Travelers | | Precious Lord b/w One More River | 1970 |
| Finch 0515 | Spiritual Tornados | Spiritual Tornados of Columbus, Ohio | I Am A Pilgrim b/w Do You Know What I Mean | 1970 |
EP releases:

LP releases:

| release | artist | artist as shown | title | year |
| --- | --- | --- | --- | --- |
| Finch LP 21218 | Spiritual Tornados | | It's A Blessing | 1968 |
| Finch LP 112210 | Gospel Travelers | Mighty Gospel Travelers | Don't Let The Devil Fool You | 19?? |
| Finch LP (?) | Gospel Travelers | Mighty Gospel Travelers | Standing On Shakey Ground | 19?? |
| Finch LP (?) | Hampton, Evangelist Maria | Evangelist Maria Hampton with the Rescue Temple Church of God in Christ | I'd Rather Fight Than Switch | 19?? |
| Finch LP (?) | O'Baines, Rev. Bessie, the Mission House of Prayer | | The Open Door (sermon) | 19?? |