Ark gospel discograpy (1963-70)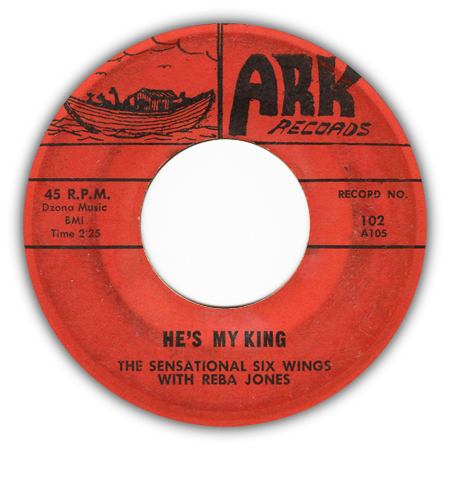 The Ark label operated from New York City and was connected to HOB (Scepter). Most sides seem to have been produced by John Bowden (HOB, Revelation, etc.).
Ark 165 (Dynamic Specials) has number 166 on the reverse side. This appears to be a mistake.
#181 seems to have been released twice, but this needs to be confirmed.
It is unknown if the unnumbered release (by the Golden Travelers) is on the same Ark label.
This page lists all known Ark gospel 45's and LP releases. No information on the missing numbers.
| 45's | release | artist | artist as shown | songs | year |
| --- | --- | --- | --- | --- | --- |
| 1 | Ark 100 | Austin, Jean | | He's Such A Friend b/w I Don't Have To Worry | 1963 |
| 2 | Ark 101 | Gospel Starlets of Brooklyn, NY | | He Sitting So High b/w He's A Mighty Good God | 1963 |
| 3 | Ark 102 | Sensational Six Wings | Sensational Six Wings with Hattie Williams b/w Sensational Six Wings with Reba Jones | Pray Change Things b/w He's My King | 1963 |
| 4 | Ark 103 | Brown Gospel Chorus, Reverend Leola | Reverend Leola Brown Gospel Chorons | Sending Up My Timber b/w Last Mile Of The Way | 1963 |
| 5 | Ark 104 | Williams and his Seven Saints, Bishop | | We Are Living In The Last Days Now b/w If It Wasn't For The Lord | 1963 |
| 6 | Ark 105 | Rising Echos | | My Work Will Be Done b/w Jesus Is Calling Me | 1963 |
| 7 | Ark 106 | Master Keys | | Jesus Is Calling b/w Up Today And Down Tomorrow | 1963 |
| 8 | Ark 107 | Gospel Starlets of Brooklyn, NY | | Leaning On His Promises b/w Never Grow Old | 1963 |
| 9 | Ark 108 | Young and the Flying Clouds, Dewey | Dewey Young and Flying Clouds | (I Heard) The Voice Of Jesus b/w Come And Go With Me | 1963-64 |
| 10 | Ark 109 | Cook and his Radio Gospel Chorus Of Enon Baptist Church, Rev. W.E. | | He's Coming Back Again b/w I'm On The Right Side | 1963-64 |
| 11 | Ark 110 | Campbell, Rev. Ben | | Bless Be His Name b/w Call Him | 1963-64 |
| 12 | Ark 111 | Sensational Six Wings | Sensational Six Wings with Reba Jones | Guide Me Jesus b/w Lord Hold My Hand | 1963-64 |
| 13 | Ark 112 | Brown Gospel Chorus, Reverend Leola | Rev. Leola Brown Gospel Chorus | Prayer Changes Things b/w What More Can My Jesus Do | 1963-64 |
| 14 | Ark 113 | Heavenly Echoes of East Orange, NJ | | I Found The Lord b/w If The Lord Had Woke Me | 1963-65 |
| 15 | Ark 114 | Gospel Starlets of Brooklyn, NY | | (I'm So Glad I Got) My Religion In Time b/w (I Want The Lord To) Hear My Prayer | 1963-65 |
| 16 | Ark 116 | Green Sisters of Baltimore, MD | | Rushing Mighty Wind b/w The Lord's Prayer | 1963-65 |
| 17 | Ark 117 | Institutional Gospel Singers of Middletown, Conn. | | Stand Not In My Way b/w There's a Time | 1963-65 |
| 18 | Ark 118 | Lane Relation Singers | Lane Relation Singers of Philadelphia, PA | He's So Close To Me b/w Moses And The Table Of The Law | 1963-65 |
| 19 | Ark 121 | Happy Travelers of Brooklyn, NY | | It's A Wonder What The Lord Can Do b/w Morning Train | 1964-65 |
| 20 | Ark 122 | Florida Robbins | | How Blessed You Are b/w There Are Days | 1964-65 |
| 21 | Ark 123 | Sensational Six Wings | Six Wings of New York City | Hear Us (Jesus) b/w Lambs Are Crying | 1964-65 |
| 22 | Ark 126 | Mighty Covington Gospel Singers of Brooklyn NY | | Must Jesus Bear the Cross b/w (Father) Help Me to Make It In | 1965-66 |
| 23 | Ark 127 | Florida Robbins | | I Got That Holy Ghost And Fire b/w We Are Our Heavenly Father's Children | 1965-66 |
| 24 | Ark 129 | Goodly and his Junior Hominizers, Bro. | | Only In Jesus We Find Rest b/w One of Those Mornings | 1965-66 |
| 25 | Ark 130 | Gospel Specials of NYC | | The Bible Tells Me So b/w What Is Pray | 1965-66 |
| 26 | Ark 131 | Voices Of Jordan of Charlotte, NC | | I Found The Lord b/w Ain't It A Shame | 1965-66 |
| 27 | Ark 132 | Mellotones of NYC | | Sent Me b/w I Love To Call His Name | 1965-66 |
| 28 | Ark 133 | Harley, Lucille | Lucille Harley of Brooklyn, NY | I Can't Forget Him b/w It's Real | 1965-66 |
| 29 | Ark 134 | Baker and the Six Gospel Stars, Charlie | Charlie Baker and Six Gospel Stars of Brooklyn, NY | Old Time Religion b/w Come Go With Me | 1965-66 |
| 30 | Ark 135 | Converters of the Bronx, NY | | Live Like The Lord Say Live b/w I Know The Time | 1965-66 |
| 31 | Ark 136 | Israelite Gospel Singers | | Blind Bonimus b/w By Chilly Jordan | 1965-66 |
| 32 | Ark 138 | Silver Light Gospel Singers | | You've Got To Move b/w Trouble Don't Last Always | 1965-66 |
| 33 | Ark 139 | Might Gospel Revelators | | Every Year Carries A Number b/w End Of My Journey | 1965-66 |
| 34 | Ark 140 | Lampy, Luvenia | | The Will Of The Lord b/w Don't You Hear Him Calling | 1965-66 |
| 35 | Ark 143 | Lunenberg Travelers | | I Know A Man b/w How To Reach The Message | 1965-66 |
| 36 | Ark 145 | Southern Stars | | Tell Jesus b/w Mother's Cry | 1965-66 |
| 37 | Ark 146 | Sensational Six Wings | Six Wings of NYC | Doctor Jesus b/w I'm Your Child | 1965-66 |
| 38 | Ark 147 | Harris Family | | Jesus Died (For You And Me) b/w He's Everything To Me | 1965-66 |
| 39 | Ark 148 | Baker and the Six Gospel Stars, Charlie | | I Made It Over b/w Calvary | 1965-66 |
| 40 | Ark 149 | Mighty Gospel Travelers | | Lead Me, Guide Me b/w I Shall Not Be Moved | 1965-66 |
| 41 | Ark 150 | F.B.H. Sensationals | | Heaven Is Mine b/w He's Keeping You | 1965-66 |
| 42 | Ark 152 | Sensational Gospel Wings | | Trouble About My Soul b/w What Could I Do | 1965-66 |
| 43 | Ark 153 | Hillard, Anthony | | I Can't Do Anything Without God b/w God Is Everything To Me | 1965-66 |
| 44 | Ark 154 | Bigelow, Rev. W.T. | | Morning Prayer b/w Evening Prayer | 1966 |
| 45 | Ark 155 | Young Adult Choir of Paradise Baptist Church of NYC | | My Body Belongs To God b/w Thank You Lord | 1966-67 |
| 46 | Ark 156 | Sons of David of Boston, Mass. | | Old Time Religion b/w Jesus Loves Me | 1966-67 |
| 47 | Ark 159 | Gospel Tornators | | Lord Want You Search My Heart b/w I've Got A New Name Over In Zion | 1966-67 |
| 48 | Ark 162 | Famous Metropolitans | | We Need Him b/w I've Got Jesus | 1966-67 |
| 49 | Ark 163 | Sensational Spiritualaires | | It's So Good To Be Alone With The Lord b/w Then I'll See Jesus | 1967 |
| 50 | Ark 164 | Harris Family | | Jesus Died (For You And Me) b/w He's Everything To Me | 1967 |
| 51 | Ark 165-6 | Dynamic Specials of NYC | | King Jesus b/w Come On And Work | 1967 |
| 52 | Ark 166 | Johnsonettes of Princess Anne, MD | | He'll Never Let Go Of My Hand b/w What A Mighty God We Serve | 1967-68 |
| 53 | Ark 168 | Swan Silver Airs | | Yes, God Is Real b/w Heaven Is A Beautiful Place | 1967-68 |
| 54 | Ark 169 | Sensational Twilight of Brooklyn, NY | | He's Real b/w I Promised The Lord | 1967-68 |
| 55 | Ark 170 | Wilder of Lumberton City, GA, Mr. Samuel | | The Old Time Religion b/w It Cost My Life | 1967-78 |
| 56 | Ark 171 | Bibletone Gospel Singers | Orig. Bibletone of Boston, Mass. | Build Me A Cabin b/w Lead Me | 1967-68 |
| 57 | Ark 172 | Wearyland Singers of Corona, LI | Wearyland Singer of Corona, LI | Remember Me b/w Keep A Lamp Burning | 1967-68 |
| 58 | Ark 174 | First Church of God in Christ Glee Club, Brooklyn, NY | | He Touched Me b/w Search Me | 1967-68 |
| 59 | Ark 175 | Harley, Lucille | Lucille Harley and the Choralettes of Evergreen First Church of God in Christ, Brooklyn, NY | I Was Lost b/w I Can't Forget | 1967-68 |
| 60 | Ark 176 | People's United Choir | | Stand By Me b/w United We Stand | 1967-68 |
| 61 | Ark 178 | Dynamic Voices of Joy | | God Bless You Mother b/w You're Worthy | 1968-69 |
| 62 | Ark 179 | Southern Gates of Wilmington, Del. | | Send It On Down b/w Rock Of Ages | 1968-69 |
| 63 | Ark 180 | Mighty Chords of Joy of Amityville LI, NY | | Need Nobody But The Lord b/w Oh Lord My God | 1969-70 |
| 64 | Ark 181 | Magic City Gospel Singers | | Lord Help My Boy, Pt. 1 b/w Lord Help My Boy, Pt. 2 | 1969-70 |
| 65 | Ark 181 | Rhett of New York City, NY, Jackie | | Come See About Me b/w I Trust In God | 1969-70 |
| 66 | Ark 182 | Gospel Crusaders of Paterson, NJ | Gospel Crusader of Paterson, NJ | Sinner Man b/w Get A Little Closer | 1969-70 |
| 67 | Ark 183 | Jones with Mighty Gospel Travelers, Rev. R.D. | | Praying time b/w Ambelechee | 1969-70 |
| 68 | Ark 184 | Moorhead, Verma L. | | Marvelous Are Thy Works b/w Dear Lord Forgive | 1969-70 |
| 69 | Ark 185 | Mighty Gospel Travelers | Mighty Gospel Travelers of NYC | Save Me Jesus b/w Walk Around Heaven | 1969-70 |
| 70 | Ark 187 | Moore and the Young Christians Of Evangel Temple, Rev. James L. | | Never Forget The Lord b/w Heart To Heart Talk | 1969-70 |
| 71 | Ark (?) | Golden Travelers | | Been In The Storm So Long b/w Let Jesus Fix It For You | 196? |
| LP's | release | artist | artist as shown | title | year |
| --- | --- | --- | --- | --- | --- |
| 1 | Ark LP 101 | Evangelist Ernestine Cleveland Reems | | O Lord Please Use Me | 196? |
| 2 | Ark LP 103 | Davis, Prof. James | Prof. James Davis and the Cloud-Davis Specials | He Will Provide | 196? |