Choice gospel discography (c. 1960-70)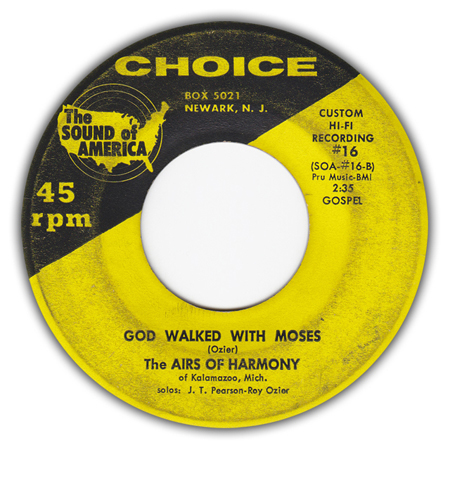 Read a short label introduction here.
All missing numbers in the listing are secular, except for #52, which is an unknown release.
Brothers McGhee and Terry (Choice 7) are Brownie McGhee and Sonny Terry who mainly recorded blues (also on Choice).
Choice 53 by the Gospel Clefs features cover versions of songs originally written and recorded by the Beatles and Simon & Garfunkel in 1969-70. So, Choice 53 must be from 1970 or later, which is odd as it makes a gap of 7 (or more) years with the previous issues.
Choice LP 101 may have been released with number 501 as well.
Choice LP 506 and 510 (both by the Rasberry Singers) have been reissued on Savoy (LP's 14080 and 14087 resp.).
This page lists all known Choice gospel 45's and LP's, plus one EP.
45rpm releases:

| release | artist | artist as shown | songs | year |
| --- | --- | --- | --- | --- |
| Choice 3 | Brainard Gospel Singers | | Help Me To Pray b/w Running To See My King | 1960 |
| Choice 4 | Propheteers | | He's Mine, He's Mine b/w I Resolve | 1960 |
| Choice 6 | Southern Larks of Savannah, GA | | Blessed Jesus b/w All God's Children Got Shoes | 1960 |
| Choice 7 | Brothers McGhee and Terry | | I'm Gonna Tell God b/w Study War No More | 1960 |
| Choice 8 | Ingram Gospel Singers of Trenton, NJ | | Take Time To Be Holy b/w Listening For My Name | 1960 |
| Choice 9 | Rolling Stone Quintet of Aiken, SC | | Slow Down b/w I Want To Know | 1960 |
| Choice 11 | Whispering Spirits of Baltimore, MD | | Living In Heaven b/w Jesus Is On The Mainline | 1960 |
| Choice 12 | Sunset Travelers of Miami, Florida | | Mother Won't Be Back b/w My Testimony | 1960-61 |
| Choice 13 | King Star Quintet of Greensboro, NC | | I Couldn't Hear Nobody Pray b/w Lord I'm On My Way | 1960-61 |
| Choice 16 ♫ | Airs of Harmony of Kalamazoo, Mich. | | I Can't Feel At Home b/w God Walked With Moses | 1961 |
| Choice 17 | Jordanettes | | The Bells Were Ringing b/w Walk With Christ | 1961 |
| Choice 18 | Belles of Trenton, NJ | | Hear The Word (Dry Bones) b/w Troubled In My Soul | 1961 |
| Choice 19 | Sensational Skylights of Trenton, NJ | | No More Tomorrow b/w Tell Mother | 1961 |
| Choice 21 | Spotlight Jubilairs of Trenton, NJ | | The Last Mile Of The Way b/w I'll Keep On Singin' | 1961 |
| Choice 22 | Rasberry Singers | Raymond Rasberry and the Rasberry Singers | Deliverance Will Come b/w No Condemnation | 1961 |
| Choice 23 | Bradford, Alex | Prof. Alex Bradford | Jesus Keep Me Near The Cross b/w Hold Out | 1961 |
| Choice 24 | Drinkard Singers | | My Faith Looks Up b/w You Can't Make Me Doubt Him | 1962 |
| Choice 25 | Psalms of Grace of Los Angeles, Cal. | | I've Got To See Jesus b/w See How They Done My Lord | 1962 |
| Choice 26 | Bradford, Alex | Prof. Alex Bradford and the Bradford Singers | I've Been Dipped b/w Jesus Supplies Me Every Need | 1962 |
| Choice 27 | Rasberry Singers | ? | Pray When Everything Goes Wrong b/w We've Come This Far By Faith | 1962 |
| Choice 28 | Ingram Gospel Singers of Trenton, NJ | | Will You Be Ready To Answer b/w Jesus Lifted Me | 1962 |
| Choice 29 | Belles of Trenton, NJ | | Wonderful Is His Name b/w Everyday, Everyday | 1963 |
| Choice 30 | Drinkard Singers | | Do You Love Him b/w Holding The Savior's Hand | 1963 |
| Choice 31 | Rasberry Singers | Raymond Rasberry and the Rasberry Singers | No More b/w Without God I Could Do Nothing | 1963 |
| Choice 32 | Savettes | | Thinking Of A Friend b/w Just Make It In | 1963 |
| Choice 33 | Spotlight Jubilairs of Trenton, NJ | | Anyhow Lord b/w That's Why I Pray | 1963 |
| Choice 34 | Bradford, Alex | Prof. Alex Bradford and the Bradford Singers (?) | It Is Well (In My Soul) b/w I Found The Answer | 1963 |
| Choice 35 | Sunset Travelers of Miami, Florida | | Have You Got It b/w My Life Been Wrecked | 1963 |
| Choice 36 | Drinkard Singers | | Joy Unspeakable b/w Out Of The Depths | 1963 |
| Choice 37 | Rasberry Singers | ? | You'll Never Be Left To Walk Alone b/w Run On To Jesus | 1963 |
| Choice 38 | Belles of Trenton, NJ | | I'm Tired Lord b/w This May Be My Last Time | 1963 |
| Choice 39 | Cleveland All Stars | | I'll Go b/w Look The Place Over | 1963 |
| Choice 41 | Gospelettes | | A Great Change b/w Keep Looking Up | 1963 |
| Choice 42 | Soul Seekers | Soul Seekers of New Orleans | What A Friend b/w Precious Lord | 1963 |
| Choice 43 | Savettes | | I've Worked Too Hard b/w We Shall Overcome | 1963 |
| Choice 44 | Gospel Tornadoes of Kalamazoo, MI | | Walk In b/w When The Spirit Came | 1963 |
| Choice 45 | Savettes | | Trust Jesus b/w I'm Going Through | 1963 |
| Choice 46 | Jersey All Stars | | Hezekiah b/w I Call Jesus | 1963 |
| Choice 48 | Whispering Spirits of Baltimore, MD | | Standing b/w Hard To Find A Friend | 1963 |
| Choice 53 | Gospel Clefs | | Let It Be b/w Bridge Over Troubled Water | 1970? |
| Choice 54 | Jordanettes | | Call Him b/w Prayer Is The Answer | 197? |
EP release:

| release | artist | artist as shown | title | year |
| --- | --- | --- | --- | --- |
| Choice EP 2 | Tomlin Choir | | no title | 1960 |
LP releases:

| release | artist | artist as shown | title | year |
| --- | --- | --- | --- | --- |
| Choice LP 101 | Tomlin Choir | | This Is My Music | 1960 |
| Choice LP 502 | Various | | All God's Children Got Shoes | c. 1960 |
| Choice LP 504 | Various | | Lord, I Couldn't Hear Nobody Pray | c. 1961 |
| Choice LP 506 | Rasberry Singers | | Deliverance Will Come | c. 1961-62 |
| Choice LP 507 | Bradford, Alex | Prof. Alex Bradford | Jesus Keep Me Near The Cross | c. 1961-62 |
| Choice LP 508 | Drinkard Singers | | Yield Not To Temptation | c. 1961-62 |
| Choice LP 510 | Rasberry Singers | | My Road Won't Be Rough And Rocky | c. 1962 |
| Choice LP 511 | Sunset Travelers of Miami, Florida | | Oh Lord! Come By Here! | c. 1962-63 |
| Choice LP 512 | Savettes | | Mercy! | c. 1962-63 |
| Choice LP 513 | Drinkard Singers | | Joy Unspeakable | c. 1962-63 |
| Choice LP 514 | Savettes | | Trust Jesus | c. 1962-63 |
| Choice LP 516 | Soul Seekers | | Songs For My Mother | c. 1962-63 |
| Choice LP 518 | Savettes | | The Latest Savettes | c. 1962-63 |