Excello gospel discography (1952-55)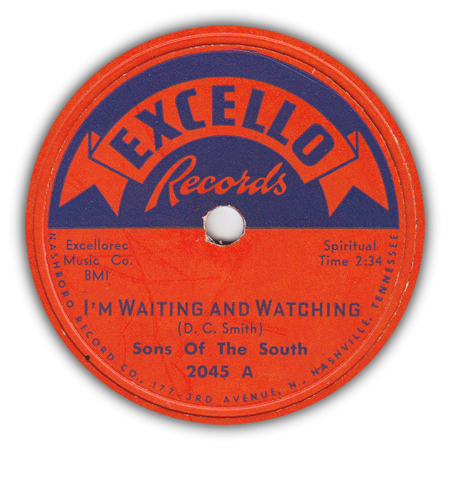 Excello was formed in 1952 by Ernie Young as a subsidiary label of Nashboro Records in Nashville, TN. Jay Miller was the primary studio producer for Excello and the label's output was mainly blues. Most gospel was released on Nashboro but a few sides appeared on Excello.
The Silvertone Singers recorded as the Cincinnatians for Brunswick (1953-54). See also the Nashboro and Finch discographies.
This page lists all known Excello gospel singles.
78 & 45rpm releases:

| release | artist | artist as shown | songs | year |
| --- | --- | --- | --- | --- |
| Excello 2000 | Boyer Brothers | | Step By Step b/w Oh Lord Stand By Me | 1952 |
| Excello 2001 | Hendrix Singers | | Away In The Manger b/w Oh Come All Ye Faithfull | 1952 |
| Excello 2002 | Boyer Brothers | | Nothing Can Change Me b/w Jesus, Saviour, Pilot Me | 1952 |
| Excello 2003 | Hendrix Singers | | In The End b/w On The Beautiful Shore | 1952 |
| Excello 2004 | Silvertone Singers | Silvertone Singers of Cincinnati | Jesus Be My Keeper b/w Since Jesus Came Into My Heart | 1952 |
| Excello 2010 | Boyer Brothers | | He Delivered Me b/w He's Got The Whole World In His Hands | 1953 |
| Excello 2012 | Young Gospel Singers | | Glory To His Name b/w I Can Call Jesus Anytime | 1953 |
| Excello 2015 | Silvertone Singers | Silvertone Singers of Cincinnati | I Got A Home In That Rock b/w In My Heart | 1953 |
| Excello 2015 | Sermonairs | | Sweet Bye And Bye b/w Have Faith And Beleive [sic] | 1953 |
| Excello 2019 | Edwards, Bro. Henry | | Is There Anybody Else Like Jesus b/w Nothing Too Hard For Thee | 1953 |
| Excello 2012 | Waldo Singers | | Jesus Brought Me Over b/w Jesus Paid It All | 1953 |
| Excello 2029 | Boyer Brothers | | When Life Is Done b/w I Can Feel God's Power | 1954 |
| Excello 2034 | Silvertone Singers | Silvertone Singers of Cincinnati | Run On To The End b/w Way Bye And Bye | 1954 |
| Excello 2036 | Waldo Singers | | Just Tell Jesus b/w Trust Him Today | 1954 |
| Excello 2040 | Sons of the South | | In My Saviour's Care b/w Didn't It Rain Children | 1954 |
| Excello 2043 | Silvertone Singers | Silvertone Singers of Cincinnati | Jesus My Saviour b/w Rescue The Perishing | 1954 |
| Excello 2045 | Sons of the South | | I'm Waiting And Watching b/w One Day | 1954 |
| Excello 2050 | Sons of the South | | God Is Alright b/w Travelin' Down This Road | 1955 |
| Excello 2054 | Jewell Gospel Singers | Jewel Gospel-Aires | Oh Lord, Guide The Way b/w After Awhile With Jesus | 1955 |