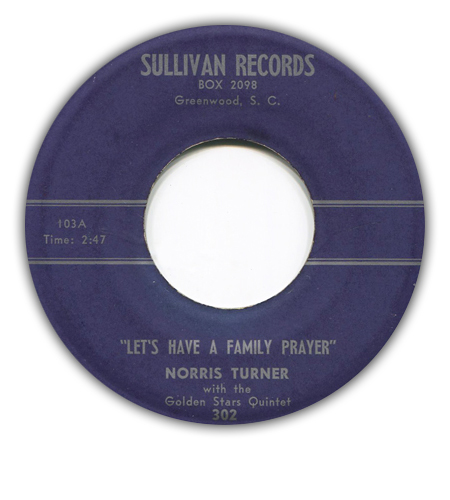 Hoyt's (Hoyt's Records), Hoyt Sullivan and Sullivan (Sullivan Records) were Hoyt Sullivan's early labels. All releases show the Box 2098 address in Greenwood, SC, except for Sullivan 6226 which is probably the last release on these labels. It shows the 305 Phoenix St. address, also in Greenwood, SC. Hoyt Sullivan later ran the HSE and HSH labels.
The Hoyt's and Hoyt Sullivan issues plus the Sullivan issue by the Abraham Brothers were also released on Hollywood. Hoyt Sullivan had a leasing deal with John Dolphin, owner-operator of Hollywood, Recorded in Hollywood, Dolphin's of Hollywood (and more). All known Hoyt's and Hoyt Sullivan releases are shown below but there may be more. It's also well possible that some recordings were made in Hoyt Sullivan's studios in Greenwood, SC. but released on the Hollywood label only.
There has been some confusion about when the Sullivan 45's were released. Years range from the 1950's to the (late) 1960's. I assume that all Sullivan 45's were released between the late 1950's and early 1960's. The first release on Sullivan was #1078 by the Abraham Brothers (it was released both in the 45 & 78rpm format). After that, Hoyt Sullivan started the 300 series for two issues by the Golden Stars Quintet and one by Rev. Campbell. Sullivan 6226 appears to be the final release with a slightly different label lay-out and a new address.
Sullivan 302 has been released twice.
This page lists all known releases on the Hoyt's, Hoyt Sullivan and Sullivan labels.
78 & 45rpm releases:

| release | artist | artist as shown | songs | year |
| --- | --- | --- | --- | --- |
| Hoyt's 521 | Campbell, Rev. Richard | | You Can't Hurry God b/w Old Ship Of Zion | 1955 |
| Hoyt Sullivan 546 | Ponder Jr., Walter | | Carry On b/w I Had A Chance | 1955-56 |
| Hoyt Sullivan 1038 | Senior Harmony Gospel Singers | | Telephone In My Bosom b/w Send Your Blessings Down | 1955-56 |
| Hoyt Sullivan 1041 | Golden Voices | | Climbing The Ladder b/w King Jesus Rolls All Burdens Away | 1955-56 |
| Sullivan 1078 | Abraham Brothers | | He'll Answer You b/w Meet Me In The City | 1958 |
| Sullivan 300 | Golden Stars of Greenwood, SC | Alphonso Devlin with the Golden Stars Quintet b/w Norris Turner with the Golden Stars Quintet | The Lord Will Answer Your Prayer b/w Searching For Jesus | c. 1960 |
| Sullivan 301 | Campbell, Rev. Richard | Rev. Campbell and his Mighty Wonder Boys | The Lord Will Make A Way Somehow b/w Don't You Want To Go | c. 1960 |
| Sullivan 302 | Golden Stars of Greenwood, SC | Alphonso Devlin with the Golden Stars Quintet b/w Norris Turner with the Golden Stars Quintet | Just Keep On Praying b/w Let's Have A Family Prayer | c. 1960 |
| Sullivan 302 | Flying Clouds of South Carolina | Flying Clouds | Every Time I Feel The Spirit b/w Stay With Me Jesus | c.1960 |
| Sullivan 6226 | Flying Clouds of South Carolina | Frank Gilchrist b/w Lloyd Cannady and the Flying Clouds | Something On My Mind b/w Jesus Hold My Hand | c. 1961-63 |