King Solomon gospel discography (1943-48)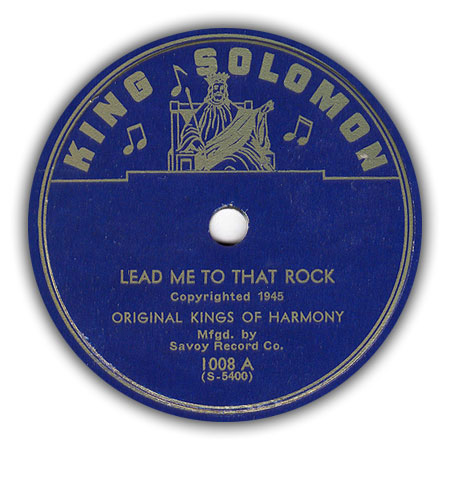 The Deep Tones' records (#1025, 1026) were also issued on Savoy with the same catalog numbers.
King Solomon 1003 by the Kings of Harmony was released twice.
King Solomon 1005 by the Kings of Harmony was also issued on Savoy 4008.
The Heavenly Four of Alabama also recorded as the Heavenly Gospel Singers (Manor) and the Lincoln Gospel Singers (Regent).
The missing numbers seem to be unreleased.
This page lists all known King Solomon gospel releases from 1943-1948.
78 rpm releases:

| release | artist | artist as shown | songs | year |
| --- | --- | --- | --- | --- |
| King Solomon 1000 | Kings of Harmony of Alabama | Kings of Harmony Quartette | Shame How They Done Our Lord b/w Is There Anybody Here | 1943 |
| King Solomon 1001 | Kings of Harmony of Alabama | Kings of Harmony Quartette | Trees Are Bending b/w Fountain Of Blood | 1943 |
| King Solomon 1002 | Johnson Jubilee Singers | | Rock My Soul b/w Where Can I Go | 1943 |
| King Solomon 1003 | Kings of Harmony of Alabama | Kings of Harmony Quartette | It Soon Will Be Over b/w I Want Two Wings | 1944 |
| King Solomon 1003 | Kings of Harmony of Alabama | Kings of Harmony Quartette | I Heard An Angel Singing b/w I Want Two Wings | 1944 |
| King Solomon 1004 | Kings of Harmony of Alabama | Original Kings of Harmony | He Knows How Much We Can Bear b/w Preacher And The Bear | 1944 |
| King Solomon 1005 | Kings of Harmony of Alabama | Original Kings of Harmony | I Got A Mother Done Gone On b/w Little David | 1944 |
| King Solomon 1006 | Johnson Jubilee Singers | | Humble Yourself b/w Heavy Load | 1944 |
| King Solomon 1007 | Kings of Harmony of Alabama | Original Kings of Harmony | Moses Smote The Water b/w New Born Again | 1944-45 |
| King Solomon 1008 | Kings of Harmony of Alabama | Original Kings of Harmony | Lead Me To That Rock b/w Crucifixtion | 1945 |
| King Solomon 1009 | Kings of Harmony of Alabama | Original Kings of Harmony | Lead Me On b/w You Better Mind | 1945 |
| King Solomon 1010 | Kings of Harmony of Alabama | Original Kings of Harmony | Walk The Lonesome Valley b/w Little Liza | 1945 |
| King Solomon 1011 | Kings of Harmony of Alabama | Original Kings of Harmony | Good News b/w So Glad | 1945 |
| King Solomon 1012 | Kings of Harmony of Alabama | Original Kings of Harmony | Fare You Well b/w Home On The Rock | 1945 |
| King Solomon 1013 | Kings of Harmony of Alabama | Original Kings of Harmony | On The Ocean Sailing b/w Wandering Child | 1945-46 |
| King Solomon 1015 | Royal Chanters | | Joy Joy Joy b/w Let It Be Known | 1946 |
| King Solomon 1016 | Royal Chanters | | Are You Traveling On The Right Side b/w Unclouded Day | 1946 |
| King Solomon 1017 | Royal Chanters | | Be Ready When He Comes b/w Hand Me Down My Silver Trumpet | 1946 |
| King Solomon 1018 | Royal Chanters | | Weary Traveler b/w Get Right With God | 1946 |
| King Solomon 1019 | Four Chimes | | Lord, Somebody's Calling b/w When The Saints Go Marching In | 1947 |
| King Solomon 1020 | Robinson with Southern Bells, Sister Doreathea | | I'll Never Turn Back b/w I Don't Know Why I Have To Cry Sometime | 1947 |
| King Solomon 1022 | Heavenly Four of Alabama | | One Day With Jesus b/w When I Come To The End Of My Journey | 1948 |
| King Solomon 1025 | Deep Tones | | My God Calls Me b/w Jesus' Love Bubbles Over | 1948 |
| King Solomon 1026 | Deep Tones | | When The Storm Of Life Is Over b/w Made Up In My Mind | 1948 |