Chance gospel discography (1952-53)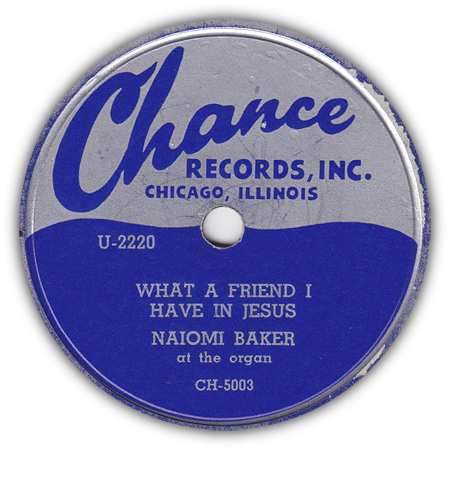 Chance was a label from Chicago, IL. owned by Steve Chandler and Art Sheridan. Ewart G. Abner Jr. was the general manager. The label started in September 1950 and was most famous for their blues and doo-wop releases. The company closed down at the end of 1954.
This page lists all Chance gospel releases.
78rpm releases:

| release | artist | artist as shown | songs | year |
| --- | --- | --- | --- | --- |
| Chance 1109 | Green, Henry | | Storm Thru Mississippi b/w Strange Things | 1952 |
| Chance 5000 | Golden Tones | | God Is Love b/w Working On The Building | 1952 |
| Chance 5001 | Southern Clouds | | Sit Down Servant b/w Sing To The Power Of The Lord | 1952 |
| Chance 5002 | Baker, Naiomi | | Softly And Tenderly b/w Love Lifted Me | 1952 |
| Chance 5003 | Baker, Naiomi | | What A Friend I Have In Jesus b/w Have You Any Time For Jesus | 1952-53 |
| Chance 5004 | Pilgrim Jubilee Singers | | Happy In The Service Of The Lord b/w Just A Walk With Thee | 1952-53 |
| Chance 5005 | Wooten Choral Ensemble | | I Heard The Voice b/w The Hand Of God | 1953 |
| Chance 5006 | Baker, Naiomi | | Have Faith b/w I Believe In Jesus | 1953 |
| Chance 5007 | Shaw, Sister Rosa | | His Dying Was Not In Vain b/w I'm Leaving Soon | 1953 |
| Chance 5008 | Shaw, Sister Rosa | | Talking About A Child b/w Lord, Save Me | 1953 |
| Chance 5009 | Boyer Brothers | Famous Boyer Brothers | Trust Him Today b/w Going Back To My God | 1953 |