Fine gospel discography (1957-1976)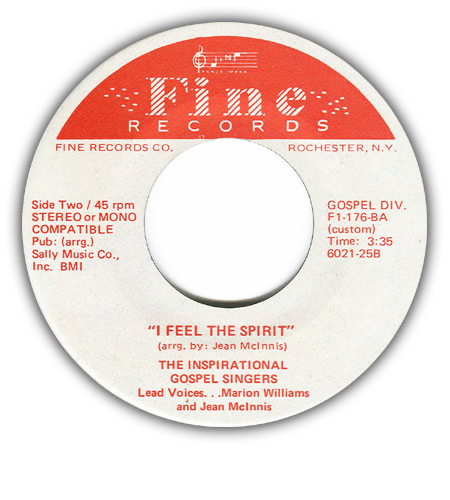 Fine was a label from Rochester, NY, founded by Vince Jan, who also was the label's proprietor.
Related labels which had gospel releases include Tone, In, F.C.D. and Queen City.
The remainders of the studio, which had been active from 1947 to 1977 and later suffered both fire and flood damage, were purchased by Mark Taylor from Australia. Much of the label's history can be found on his website; it has been very helpful in creating this page.
Between 1957 and 1976 some 17 gospel 45's were issued on Fine and even though most were issued in the 1970's, all are listed below.
Joe Carter (Fine 5731) is most likely Joe L. Carter (or Joe L.) who had a secular career as well (his 1971 release "Please Mr. Foreman" on Hi may be the most noteworthy). In the later 1970's he recorded more gospel for Champ (as Joe L. Carter and the Pilgrim Gospel Singers) and Zesty (as Joe Carter and the Pilgrim Gospel Singers).
This page lists all known Fine gospel singles.
45rpm releases:

| release | artist | artist as shown | songs | year |
| --- | --- | --- | --- | --- |
| Fine 5731 | Carter, Joe L. | Joe Carter and the Pilgrim Gospel Singers | When I Call Mother, Pt 1 b/w When I Call Mother, Pt 2 | 1957 |
| Fine 862 | Royal Harmonier Singers | | Peace In The Valley b/w I Want To Know | 1962 |
| Fine 6701 | Bible Aires Spiritual Singers | | How He Died On Calvary b/w You Better Get Ready | 1967 |
| Fine 769 | B.C. Harmonizers | | You Ought To Been There b/w There Will Be No More Tomorrow | 1969 |
| Fine 3702 | Full Gospel Fellowship | | Yes, Jesus Loves Me b/w I Was Glad | 1970 |
| Fine 6703 | Radio Gospel Kings | | I Found Jesus b/w Glad News | 1970 |
| Fine 77010 | Bright Clouds | | Certainly Lord! b/w Someone Is Knocking At Your Door | 1970 |
| Fine 67114 | Traveling Six | | He's Alright! b/w What He Done For Me | 1971 |
| Fine 47110 | Sons of David | | There's A Man Taking Names b/w My Work Will Be Done | 1971 |
| Fine 1715 | Spiritual Jubilators | | No Graves b/w Precious Lord | 1971 |
| Fine 726 | Gospel Tone Spiritual Singers | Gospel Tones Spiritual Singers | Moses b/w Sinner Man | 1972 |
| Fine 1073 | Gospel Hi-Lites | | Ease My Troublin' Mind b/w Too Far To Turn Around | 1973 |
| Fine 735 | Gospel Tone Spiritual Singers | | What Manner Of Man Is This? b/w Where Could I Go, But To The Lord | 1973 |
| Fine 749 | Modernaires Singers, J.J. and J. | | My Life Will Be Sweeter b/w Servant Of The Lord | 1974 |
| Fine 752 | Pentecostelaires | | Make Me Humble b/w The Lord Is Ever Near | 1975 |
| Fine 7510 | A.M.C. Male Chorus | | He's Sweet I Know b/w Is God Satisfied With Me? | 1975 |
| Fine 176 | Inspirational Gospel Singers | | The Same Thing It Took b/w I Feel The Spirit | 1976 |