Friendly gospel discography (c. 1956-59)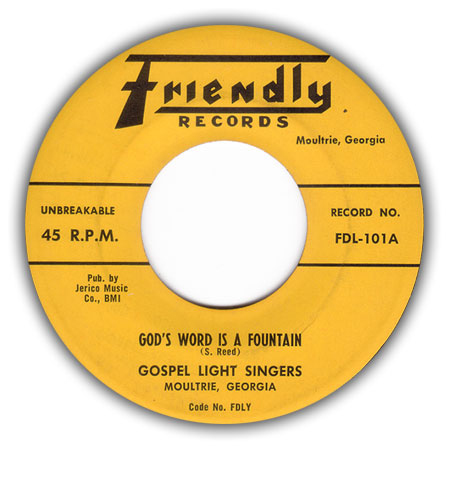 Friendly was Madam Sophie Reed's label, located in Moultrie, GA. The label released secular material as well as gospel. Madam Sophie Reed sang with the Gospel Light Singers and the Gospel Calvalners.
This page lists all known Friendly gospel singles and one EP; they were probably released in the 45rpm format only.
45rpm releases:

| release | artist | artist as shown | songs | year |
| --- | --- | --- | --- | --- |
| Friendly 1011 | Gospel Light Singers | | Time Moves On b/w I Need You Lord, Yes I Do | 1956 |
| Friendly (nn) | Gospel Light Singers | | Lord I'm Coming Home To Thee b/w Faith Reaches Out | 1957 |
| Friendly 1100 | Reed, Madam Sophie | Madam Sophie Reed and the Gospel Calvalners | No Place In Heaven For The Sinner Man b/w I Gave Up This World | 1957/58 |
| Friendly 100 | Gospel Light Singers | | Jesus, He Can't Fail b/w Oh Heaven, I Haven't Been To Heaven, But I've Been Told | 1958 |
| Friendly 101 | Gospel Light Singers b/w Betty Hayes | | God's Word Is A Fountain b/w Some Christians Talk Too Much | 1958 |
| Friendly 102 | Gospel Light Singers | | Move By The Holy Ghost b/w I Meet Jesus In The Prayer Room | 1958 |
| Friendly 103 | Reed, Madam Sophie | Madam Sophie Reed and the Gospel Calvalners | John Cried In The Wilderness b/w I Saw The Light, The Holy Light | 1958 |
| Friendly 105 | Gospel Light Singers | | Getting To See The Lord, The Lord b/w Modern Time Religion | 1958 |
| Friendly 402 | Gospel Light Singers (?) | | One More River To Cross b/w I Know I've Been Born | 19?? |
EP release:

| release | artist | artist as shown | title | year |
| --- | --- | --- | --- | --- |
| Friendly EP 1192 | Gospel Light Singers | Gospel Lights | no title | 195? |