In the last few days I added 60+ scans to the website. Some came from Per Notini, some more from the internet. Most scans were new, some replaced previous scans (because they were better looking) and there were a few previous unknown releases as well. Probably the most interesting of these was an EP on Friendly by the Gospel Lights (better known as the Gospel Light Singers). Remarkable was a different release of Ark 148; shown already was a version credited to Charlie Baker and the Six Gospel Stars, but on the internet appeared a version credited to Charlie Baker and the Five Singing Stars.
Here's a full list of what's new: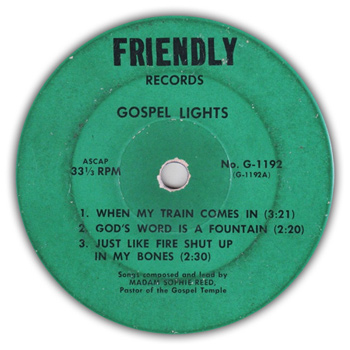 Ark (138, 145, 146, 148, 164, 165/66, 184)
Chance (5005)
Choice (18)
Deluxe (1157)
Fine (176)
Friendly (EP 1192)
GRC (515)
Hosanna (1004, 1013, 1519, 1529, 8020, 9009)
And a couple of weeks ago, I added scans for the Lloyds, Manor and Message discographies, as part of the ongoing move of images from my old website to this new one. Forgot to mention it in a post earlier.