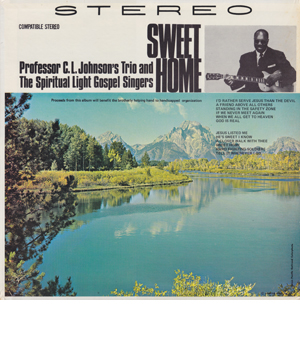 Professor C.L. Johnson's Trio and the Spiritual Light Singers: Sweet Home (1969)
It's been some time since I made a CD-r available for purchase/download and this one's been in the can for a while. Today I decided to finally publish it on the website.
The album "Sweet Home" features an interesting and rather primitive sounding group, and contains 12 songs, both slow and uptempo. Professor Johnson's singing and guitar playing (reminiscent of Sister Rosetta Tharpe) is backed up by some minimal instrumentation (organ, piano, tambourine) and a female group, which probably included Thelma Bumpess (doing some lead parts as well). Apart from mentioning Thema Bumpess, no other credits are given (the back cover of this album is blank).
The Grand label is better known for its doo-wop recordings, but there were several gospel issues as well, including an LP (#7701) by the Trumpeteers and the Southern Tones (though the Southern Tones were uncredited). Apparently the label, which started in 1953, was still active in the late 1960's.
Thelma Bumpess is mentioned as the arranger on the labels. This blind singer was in the Soul Satifiers (Apollo) and the Interne Quartet (Federal), and she sang with the Ward Singers (Columbia, Savoy). She also recorded as Thelma Bumpess and the Royalettes (Federal) and as Blind Mary in Blind Mary and Baby Shirley (also on Federal).
Apart from this LP, there also was a 45 by Professor C. Johnson & his Specialairs on the Special-Airs label. This 45 features a different version of "If We Never Meet again" and has "I've Got Heaven on My Mind" on the reverse side.
The professor Johnson album is listed on the CD-r page and can be ordered as a CD-r or as a download. For a song listing and images of the album, click here.