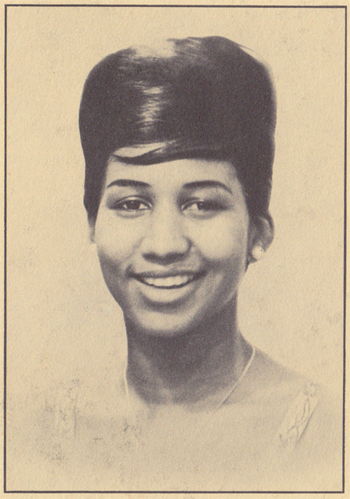 Aretha Franklin's first recordings were made during a service at New Bethel Baptist Church in Detroit, MI, in 1956. "Precious Lord" (Pt. 1 and 2) first appeared on J-V-B 75, "You Grow Closer" and "Never Grow Old" came out on J-V-B 47. J-V-B was Joe Von Battle's label, located in Detroit, MI. The sides mentioned and "There's A Fountain Filled With Blood" then found their way to J-V-B 100, an obscure LP which also featured Sammie Bryant and Rev. C.L. Franklin, Aretha's father. This album was reissued by Joe Von Battle on his Battle label (LP 6105) in 1962. The same year saw a follow-up release with Battle LP 6109, featuring the same artists as on LP 6105 with more recordings from the same church service. The Aretha Franklin songs on this album were "The Day Is Past And Gone", "He Will Wash You White As Snow", "While The Blood Runs Warm"and "Yield Not To Temptation".
Aretha Franklin's secular successes (she recorded for Columbia at that time) also drew the attention of the Chess brothers, who issued all of the before mentioned Aretha Franklin recordings on their Checker label (LP 10009, 1965). The Chess brothers already worked with Joe Von Battle on several other occasions.
It's safe to say that these early gospel recordings wouldn't have drawn that much attention if it wasn't for Aretha's breakthrough as a major soul artist. The songs were also reissued many times later on and are well accessible for everyone interested. Probably of more interest to the general gospel lover is  Aretha Franklin's 1972 gospel LP titled "Amazing Grace" (Atlantic LP 2-906). The music of this album is widely available as well.
I've added scans of Battle LP 6105 today. Check this LP and Checker LP 10009 for more details on Aretha Franklin's early recordings, including scans of her J-V-B and Checker singles (there are no J-V-B and Battle discographies provided; Battle LP 6105 is shown in addition to the details of the Checker LP and so are the J-V-B singles).