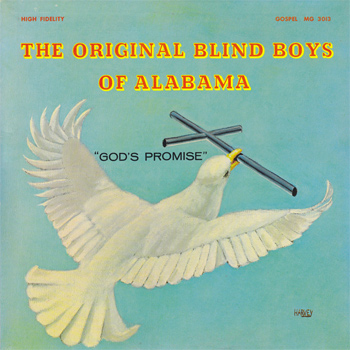 The Original Blind Boys of Alabama recorded for the Savoy label from 1959 to 1962, right after their time with Andex (1958) and prior to their Vee-Jay days (c. 1963-65). Most of the Savoy recordings were released on the Gospel label; 11 singles and one LP, "God's Promise", from 1962. Another compilation album was released on Savoy (LP 14044, 1961, also check this post).
"God's Promise" features a painting by the legendary and mysterious Harvey. Many of his paintings found their way to the gospel albums released on Savoy and its subsidiary labels. Check John Glassburner's Harvey website for more information on Harvey. Most all of Harvey's album covers are displayed.
The Blind Boys of Alabama, who started out in 1939 (!) and first recorded for Coleman in 1948, are legendary for their Specialty recordings (1952-57) and they remained top of the bill throughout the decades that followed, until this very day. Clarence Fountain (born c. 1927) is the only founding member still around, and he continues to sing with the Blind Boys as health allows.
Click on the album cover to see more images & album details.