The story of a New York gospel recording company
An outline by Per Notini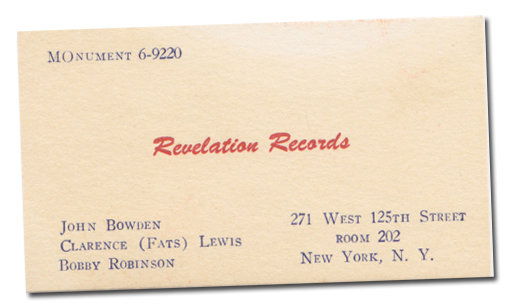 Not to be confused with two other Revelation companies (in St. Louis MO., and Charlotte, NC., respectively), our Revelation Records was based in New York City, NY. Although we are not completely sure of who was the founder or the formal owner, Revelation was a product of Fury/Fire Records Inc. on 271 West 125th Street, New York. This writer assumes that Revelation was operated by Bobby Robinson, John Bowden and Clarence "Fats" Lewis.
At black-owned record companies like Peacock/Duke, Vee Jay, Swing Time, Big Town etc., the worldly R&B and the sacred gospel music styles were intertwined, because they were only different expressions of the same black culture. Revelation seems to have prospered from the same kind of symbiotic relationship with Fury/Fire Records. It was owned by the phenomenal Bobby Robinson, who passed away in January 2011. He is remembered, among other things, as the man behind a string of R&B #1 hits in the rock & roll era, 1959-1961: "Kansas City" (by Wilbert Harrisson); "Fannie Mae" (by Buster Brown); "There is Something on Your Mind" (by Bobby Marchan); "Letter Full of Tears" (by Gladys Knight & the Pips); and "Ya Ya" (by Lee Dorsey).
Bobby Robinson used his publishing company, Fire Music, to copyright many gospel songs on Revelation. During a period of about five years, Revelation recorded a variety of gospel acts, enough for almost fifty commercially released 45's. They included the powerful male quartets, Cross Jordan Singers of Nashville Tn. (issues 107, 125, 138, 142), Dewey Young and the Flying Clouds (issues 133, 145), the Five Singing Stars (issue 112), and the Mighty Gospel Giants of Brooklyn (issue 121). For some of them, Revelation became a springboard for their subsequent careers on bigger companies like HOB, Savoy, Minit or Nashboro.
Of the female groups that recorded for Revelation, none had more impact than the Gospel Challengers, which was headed by the marvelous alto voice of Elisabeth (Liz) Dargan. After her single 45 on Revelation (issue no. 134), and a few exciting 45s on Song Bird, Dargan's group backed up Inez Andrews as "the Andrewettes". Later she formed "Liz and the Gospelettes" and seemed to have enjoyed a prolific career until her death in the 1970s.
Another Revelation female singer, Sandra Grimes (issue 108, 131), was associated with Robinson's first record label, Red Robin with a 1953 blues release (Red Robin 129). Sandra Grimes was a member of the Christian Tabernacle Church Choir, with the singing pastor William O'Neil, who also had one 45 released on Revelation (issue 127)
John Bowden was a gospel record producer, A&R and promotion man, who was very active in the 1960's and 70's and most famously associated with HOB and Ark, two gospel labels affiliated with Scepter Records, New York. Bowden's name appears on many Revelation 45s (issues 129-149). But his name can also be found on small, obscure 1960s New York record labels, like Asnes and Rejo. More investigation is needed to uncover the story of the important but overlooked John Bowden, a gospel celebrity who was responsible for creating many exciting Revelation 45's.
The only detail available on Clarence "Fats" Lewis is that he was Bobby Robinson's silent partner.
(December 2011)