An outline by Per Notini
(January 2018)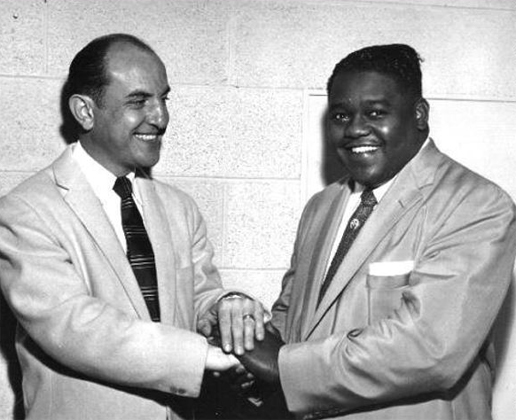 Imperial Records was based in Los Angeles and was owned and operated by Robert 'Lew' Chudd. He founded the label in the autumn of 1947. Its office address was 6425 Hollywood Boulevard in the Warner Building.
In the late 1940s, Chudd experimented by recording mainly jump blues and Mexican artists. He also tried his hand at square dancing and Dixieland jazz, until, in 1949, he struck gold with Fats Domino, who was to give the company many best sellers during the 1950's. Imperial recorded other New Orleans-based R&B acts, like Roy Brown, Smiley Lewis and Irma Thomas. Their prolific output also included T-Bone Walker and Lightning Hopkins, to name a few of the best known blues acts.
In 1957, Imperial signed white rock'n'roller Ricky Nelson, who became a very consistent hit-maker for the label, well into the early 1960s. There were also a substantial amount of hits with country singer Slim Whitman. Chudd bought and incorporated other labels, e.g. Aladdin and Minit, into his enterprise, until he sold Imperial in 1963 to Liberty Records. During its heyday, Imperial was effectively distributed in Europe by London Records.
Imperial's collaboration with the gospel genre was marginal. But, interestingly, Chudd convinced the Delta Southernaires, a gospel quartet, to convert to the Spiders, who became the most popular doo-wop group in New Orleans.
The original gospel records on Imperial were interposed in the 5000-5200 series (1948-1954). In 1963 Imperial released a number of six gospel singles in their 5900 series, some featuring previously unreleased recordings (all from the late 1940's/early 1950's and some came with overdubs). Seven gospel LP's were produced; six in the 9000 series (1960-63) and one in the 'Legendary Masters Series' (#94007, 1968).