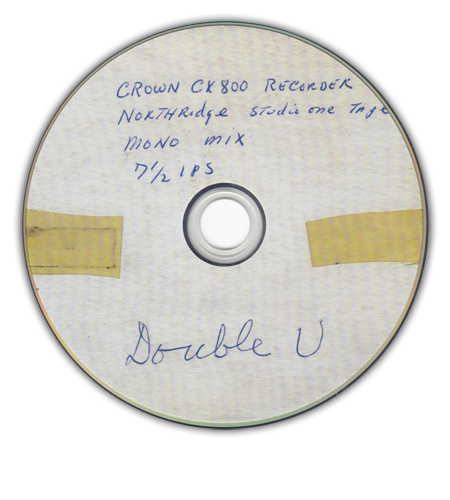 Below are all gospel titles which are on the "Downriver Revival" DVD. All recordings were taken from the original tapes. A number of songs found their way to a 45rpm release, others didn't. No efforts have been made to figure this all out.
The numbers given in the first column below come from the numbering that is being shown in Windows Media Player; there are three chapters (shelves), numbered 1 – 3, containing the tapes which are not separately numbered. The songs do have a number though; "3-32" f.i. means chapter 3, song 32.
There are many songs untitled. Where I could figure out the possible song title, it's given between parenthesis.
| | | | | |
| --- | --- | --- | --- | --- |
| | Apostles Of Music | | | |
| 2-39 | Look Where He Brought Us From | | | |
| 2-40 | Wade In The Water | | | |
| 2-41 | Look Where He Brought Us From (mix) | | | |
| 2-42 | Wade In The Water (mix) | | | |
| 3-30 | Motherless Child | | | |
| 3-31 | Look Where He Brought Us From (instr.) | | | |
| 3-32 | Wade In The Water (instr.) | | | |
| | | | | |
| | Coleman Family | | | |
| 1-75 | People Has It Hard | | | |
| 1-76 | Peace On Earth | | | |
| | | | | |
| | Calvin Cooke | | | |
| 1-48 | Untitled 1 (I Want To Go To Heaven) | | | |
| 1-50 | Untitled 2 (The Rains Came Down) | | | |
| 1-51 | Untitled 3 (Since I Laid My Heavy Burden Down) | | | |
| 2-10 | Walk With Me 1 | | | |
| 2-11 | Walk With Me 2 | | | |
| 2-12 | Walk With Me 3 | | | |
| 2-13 | What Happens To Them All | | | |
| 3-33 | Walk With Me | | | |
| 3-34 | What Happens To People | | | |
| | | | | |
| | Deliverance Echoes | | | |
| 1-74 | Heaven | | | |
| 1-91 | Have A Little Talk With Jesus | | | |
| | | | | |
| | Gospel Supremes | | | |
| 2-17 | Sinner Man | | | |
| 2-18 | Sweet Home | | | |
| | | | | |
| | Shirley Ann Lee | | | |
| 1-33 | Consider Me | | | |
| 1-34 | You've Been Good To Me | | | |
| 1-36 | Blessed Quietness | | | |
| 1-38 | How Can I Lose | | | |
| 1-40 | You Better Run | | | |
| 1-42 | Please Accept My Prayer | | | |
| 1-44 | Stop Look And Listen | | | |
| 1-45 | Get Right | | | |
| 1-46 | Blessed Assurance | | | |
| 1-65 | Stop Look And Listen | | | |
| 1-66 | I Shall Not Be Moved | | | |
| 1-81 | Get Back | | | |
| 1-82 | Untitled 1 (It Makes No Difference What The People Say) | | | |
| 1-83 | Untitled 2 (All That I Am Lord) | | | |
| 2-19 | Can't Give Up | | | |
| 2-20 | How Can I Lose | | | |
| 2-21 | There's A Light | | | |
| 2-22 | Please Accept My Prayers | | | |
| 2-43 | I Shall Not Be Moved | | | |
| 2-76 | Untitled 1 | | | |
| 2-77 | Untitled 2 | | | |
| 2-78 | Deliver Me | | | |
| 2-79 | Untitled 3 (Oh Lord, I Need You) | | | |
| 2-50 | There's A Light | | | |
| 2-51 | Blessed Quietness | | | |
| 2-52 | My Faith Is In Thee | | | |
| 2-53 | Everything Gonna Be Alright | | | |
| 2-54 | Please Accept My Prayer | | | |
| 3-4 | Time | | | |
| 3-5 | Can't Give Up | | | |
| 3-10 | Get Back | | | |
| 3-11 | Someday | | | |
| 3-12 | Get Back (Take 2) | | | |
| 3-13 | Please Accept My Prayer | | | |
| 3-14 | Banter | | | |
| 3-15 | I Shall Not Be Moved | | | |
| 3-16 | The World Is Not My Home | | | |
| 3-17 | Without God | | | |
| 3-18 | Stop Look And Listen | | | |
| 3-19 | Without God | | | |
| 3-20 | My Faith | | | |
| 3-21 | I Shall Not Be Moved | | | |
| 3-22 | Electric Sitar Doodle | | | |
| | | | | |
| | Mighty Gospel Harmoniers | | | |
| 1-30 | Lord I'm So Glad | | | |
| 1-31 | I Don't Have To Cry No More | | | |
| 2-2 | Lord I'm So Glad | | | |
| 2-3 | My Jesus Is All And All | | | |
| 2-4 | I Don't Have To Cry No More | | | |
| 2-5 | I Will Walk Around In Glory | | | |
| | | | | |
| | Mighty Voices Of Wonder | | | |
| 1-5 | Every Year Carries A Number | | | |
| 1-6 | Every Year Carries A Number (take 2) | | | |
| 1-7 | I Thank The Lord | | | |
| | | | | |
| | Charles Miles | | | |
| 1-73 | Sermon | | | |
| | | | | |
| | Miles Choir | | | |
| 2-74 | Untitled 1 (I'll Go Where You Want me To Go) | | | |
| 2-75 | Untitled 2 | | | |
| | | | | |
| | Mt. Zion Choir | | | |
| 1-8 | Untitled 1 | | | |
| 1-9 | Untitled 2 (Let Not Your Heart Be Troubled) | | | |
| 1-10 | Untitled 3 | | | |
| 1-11 | Reverse Tape Bleed Cacophony | | | |
| 2-14 | Untitled 1 (If You Trust And Never Doubt) | | | |
| 2-15 | Untitled 2 | | | |
| 2-16 | Untitled 3 (Do You Love My Jesus) | | | |
| | | | | |
| | Newsome Singers | | | |
| 1-84 | Untitled 1 (There Will Be Peace For All Of God's Children) | | | |
| 1-85 | Untitled 2 (Jesus Is Coming) | | | |
| 1-86 | Untitled 3 (God Has A Way That Is Sweet) | | | |
| | | | | |
| | Pendleton Special | | | |
| 2-55 | Nothing Too Hard | | | |
| 2-56 | Untitled (There's A Leak In This Old Building) | | | |
| | | | | |
| | Pilgrim Wonders | | | |
| 1-2 | Untitled 1 (Saviour Don't You Pass Me) | | | |
| 1-3 | Untitled 2 (Saviour Don't You Pass Me) | | | |
| 1-4 | Untitled 3 (He Never Failed) | | | |
| 2-23 | New Born Soul | | | |
| 2-24 | He Never Failed | | | |
| | | | | |
| | Isaac Prince Singers | | | |
| 1-12 | Time Not Long | | | |
| 1-13 | Yes We Can | | | |
| 2-44 | Marvelous Name, Part 1 | | | |
| 2-45 | Marvelous Name, Part 2 | | | |
| | | | | |
| | Revelations | | | |
| 3-2 | Take Care Of Us | | | |
| 3-3 | I Know A Man | | | |
| | | | | |
| | E.G. Robinson | | | |
| 1-67 | Looking To The Hills | | | |
| 1-68 | Stay With Me | | | |
| | | | | |
| | Auditions (E.G. Robinson?) | | | |
| 1-52 | Untitled 1 (Is Your All On The Altar) | | | |
| 1-53 | Untitled 2 (That's Why I Call Him Up) | | | |
| 1-54 | Untitled 3 (Looking To The Hills) | | | |
| 1-55 | Beautiful Garden | | | |
| | | | | |
| | Unknown Choir | | | |
| 2-70 | Praise God | | | |
| 2-71 | Beautiful Garden | | | |
| | | | | |
| | Voices Of Deliverance | | | |
| 1-69 | Wait On The Lord | | | |
| 1-70 | Someday | | | |
| 1-71 | The Power Of God (1972) | | | |
| 1-72 | Show Me The Way Lord | | | |
| 2-46 | Untitled 1 | | | |
| 2-47 | Untitled 2 | | | |
| 2-48 | Untitled 3 | | | |
| 2-49 | Untitled 4 | | | |