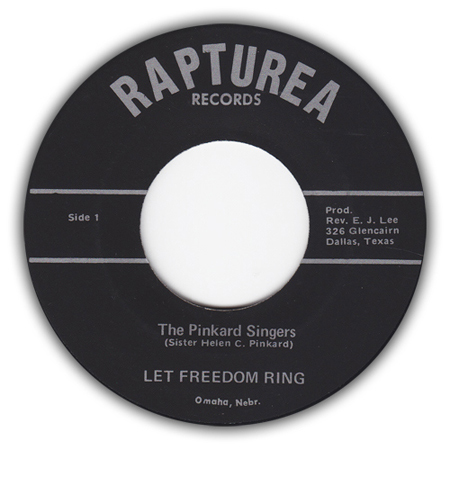 Rapturea was a Dallas, TX label run by Rev. Emmett J. Lee, who also ran Hosanna. All of the label's output seems to be from the 1970's.
Little is known about Rev. Lee's labels and most information comes from 45's offered on eBay, etc.
Sometimes the label name was shown as 'Rapturea Records' and in later years as 'Rapturea Records Inc.' Two of the three (now known) 45's with this name have the year 1976 printed on the labels; #1523 seems to have been released later than the other 45's in the 1500 series.
Rapturea 1005 (Pinkard Singers) has the number written in the dead wax.
The 45 by Sunrise has no number shown on the labels (apart from the matrix numbers); I suppose a 15xx number is shown in the dead wax, similar to #1005.
Eddie Finley also recorded funk/soul for Rapturea (#1001, 1521).
The 1000-series seems to be from 1972, but all years given (except for the two that show 1976) must be considered as estimates.
Unlisted numbers are either secular or unknown.
This page lists all known gospel releases (45's and LP's) on the Rapturea label.
[table "" not found /]
[table "" not found /]