By Per Notini and Robert Termorshuizen (January 2015)
John Grayton Dolphin (1902-58), a black entrepreneur from Beatrice, Alabama, settled in Los Angeles in 1948 where his famous (and ill-famed) story in music had its start. Through the remaining 10 years of his life, he ran several labels. 'Dolphin's of Hollywood' came first, which became 'Recorded in Hollywood' (late 1949, early 1950) and just 'Hollywood' in 1953. Amongst the other labels he ran were Lucky (1954), Cash (c. 1955-56) and Money (c. 1954-56) – no doubt about his motivations! The story started with a record shop, that Dolphin acquired from Forrest "War" Perkins (it had been a record store since 1929). Dolphin changed the name of the shop to 'Dolphin's of Hollywood' and it became one of America's most famous record stores. Some of the most popular deejays found a home for their art in front of the store's window, playing for late night partying crowds until the cops came in.
Dolphin initially bought several gospel recordings from the Exclusive label and put them out on 'Dolphin's of Hollywood' together with some newly recorded material. It is difficult to accurately date these first releases. Though record #150, by the Gay Sisters, has a high number, it is reported to have been recorded by Dolphin as early as 1948. However, #123 (from Exclusive), by the Famous Ward Singers, has been dated to late August 1949. As researcher Jim Dawson has pointed out, the number system of John Dolphin's record catalogue was chaotic: duplicated release numbers, discs pressed with alternative flip sides and reissues drawn from many other labels.
Things improved from 1949-50 onwards, when the second label, 'Recorded In Hollywood', was installed. The business flourished and Dolphin recorded and released a large number of jazz, R&B, rock'n'roll and gospel records.
Dolphin developed partnership with Don Pierce, who manufactured and distributed the records through Pierce's 'Hollywood Records Organization'. Pierce's presence seems to have intruded particularly in the spring of 1953, when the label issued three hillbilly records (#415, 416, 418); Pierce himself owned 4 Star, which issued both blues and country (in 1955 he acquired Starday, the famous country label). A few months later the 'Recorded in Hollywood' label came to an end. Pierce took over the masters and shortened the company's name to Hollywood.
In early February of 1954, Decca gained control of the 'Recorded in Hollywood' label including all assets and the rights to 150 songs formerly belonging to John Dolphin. Decca entered a joint operation with Don Pierce, now the owner of Hollywood. Twenty gospel records were issued on Hollywood. Although the label continued to exist until 1968, the last gospel issue dates from 1958 (#1095). Gospel was not Dolphin's or Pierce's main concern, but both men realized the potential of the genre.
Hoyt Sullivan (Hoyt's, Sullivan, HSE, HSH) had a leasing deal with John Dolphin.
John Dolphin was murdered behind the desk of his office at 1252 S. Berendo St., Hollywood, on Feb. 1, 1958 by singer Percy Ivy. Don Pierce did better and died at 89 in 2005.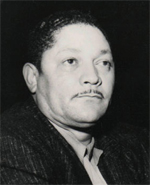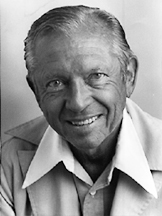 John Dolphin and Don Pierce